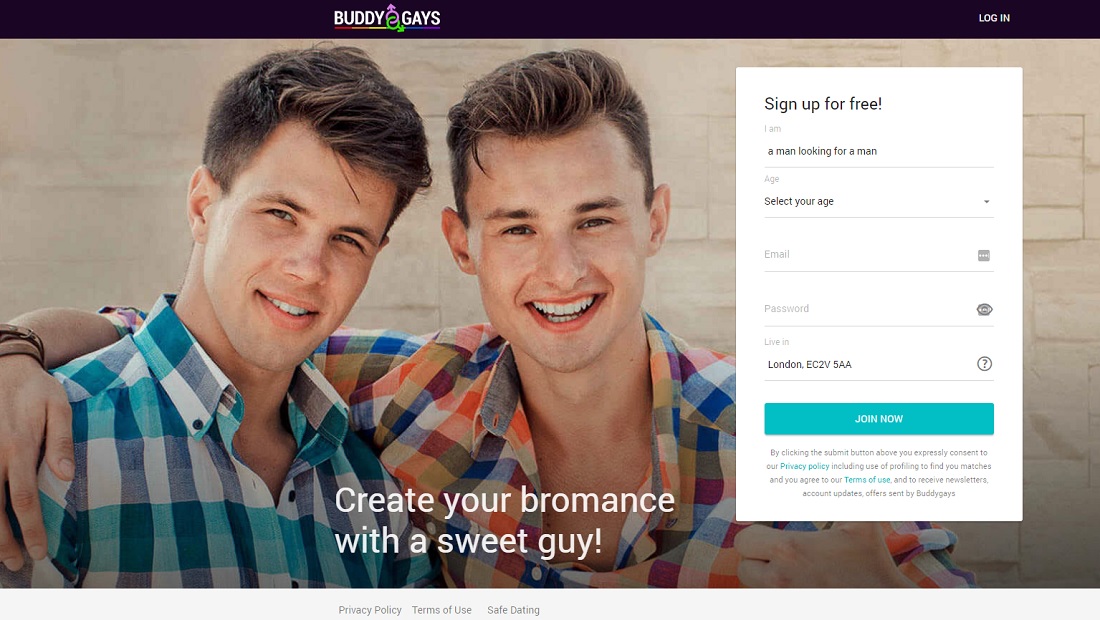 There is no better place for men seeking new and exciting options for gay daddy dating online than BuddyGays.com. This innovative dating platform aimed at gay men creates a tailor-made experience that all gay singles can enjoy. In our BuddyGays.com review, we go more in-depth on the site's features, the benefits, customer service, and quality of profiles to help gay singles decide whether this is the platform for them.
Pros & Cons of BuddyGays.com
There are many positives to joining BuddyGays for gay daddy dating. Whether singles are searching for a sugar daddy or a sugar baby, there are plenty of benefits that will make joining this site worthwhile.
Pros
Specialist platform designed for gay singles
Able to see new members on the site and engage proactively
In-depth profiling makes it easier to find compatible men
Secure platform for singles who are serious about finding love

However, some of the cons of joining BuddyGays.com also exist.
Cons
Geared towards a younger range of singles with the largest demographic being the 20s-30s range
All chat functions are premium features
Generally, BuddyGays.com is intuitive, with great search and discovery options and brilliant profiling, which provides more information about the singles online.
Signing up
Registration is incredibly fast and simple with BuddyGays.com, meaning singles can instantly start chatting with locals who interest them. All singles have to do is:
fill in basic information at the registration box (age, location, name, etc.);
wait for an e-mail to come in to verify your account;
click the link and verify your e-mail.
Done! 
Filling out information on your profile can be done later, meaning singles can instantly check out the local dating scene.
Profiles Quality
One of the major benefits of joining BuddyGays.com is that the site has brilliant profile information and matching capabilities. This makes it easier for singles to connect with compatible individuals and find their ideal match. One of the interesting features of BuddyGay.com, which is useful for men seeking a gay sugar daddy or gay sugar baby, is the tribe feature. Men can assign themselves to the following tribes:
Bear
Clean-Cut
Geek
Twink
Jock
BDSM
This provides a simple search function that makes it easier to find the kind of men singles are looking for and pursue ideal relationships. Other things you can put on your profile include:
Personal information
Photos & Videos
Status updates
Types of relationships you're searching for
Additional information (where your personality can really shine)
Security on BuddyGays.com
The benefit of having most of the chat features on a premium subscription is that it limits the number of trolls or dangerous people who're simply searching for an easy way to target someone. At BuddyGays.com, you can rest assured that a lot of these features have been put behind a paywall to discourage more unsavory types of people from joining to site and targeting singles. 
BuddyGays also has a safety feature that can be turned on and off or set to a certain level, depending on your preference. At the most basic level, you won't be able to see or contact anyone (and they can't contact you either) who have been reported for suspicious activity. If you set your safety levels to full, only verified members would be able to contact you.
These safety features and settings allow every gay sugar daddy find their sugar baby safely and enable them to date in a way that makes them feel comfortable and protected.
Prices
There are a few features on BuddyGays.com, excluding chat functions, which are free and are perfect for gay sugar dating. However, singles who're searching to contact men online will have to pay for a subscription to get the most out of the platform and pursue the best dating opportunities.  BuddyGays.com is one of the cheaper platforms out there for gay singles seeking daddies and sugar babies online. The pricing plans are as follows:
1-day pass costs $0.99
1-week membership costs $6.02
1-month membership costs $24.90
3-month membership costs $41.40
Features
Some of the free features that singles can take advantage of include: 
Setting up a profile and filling out your information
The 'Like gallery' where you can decide whether you're interested in someone or not
Free search function
The premium features singles can take advantage of are:
The 'Flirtcast' which allows you to send messages to multiple singles at once
Private messaging functions
Instant messaging
Customer Service on BuddyGays.com
There is a contact number that you can contact BuddyGays on, especially if you're having trouble with payments. This means that any queries on that will be solved straight away.
There are also options to contact them through the site and online for general information and problems you may have. It doesn't have the best customer service in terms of availability around the clock, but they do have multiple forms of contact.
Summary
BuddyGays.com is a fantastic site for singles who want to explore a variety of options online. The sheer number of profiles and options to find men that are compatible is fantastic for gay singles seeking relationships. It is a great site to start your journey on too and discover what you're seeking in a relationship. Whether you're looking for a daddy or a baby, gay daddy dating with BuddyGays.com is bound to yield results with singles looking to put the time into the platform.
FAQ
Is BuddyGays.com free?
To access all the features of BuddyGays.com, singles have to pay for a subscription (a list of these features is highlighted above). However, there are plenty of features that are available to members who're using a free account.
Does BuddyGays.com have an App?
BuddyGays.com does not yet have an app although it is very easy to access a mobile version through your phone's web browser, therefore making gay sugar dating accessible for everyone.