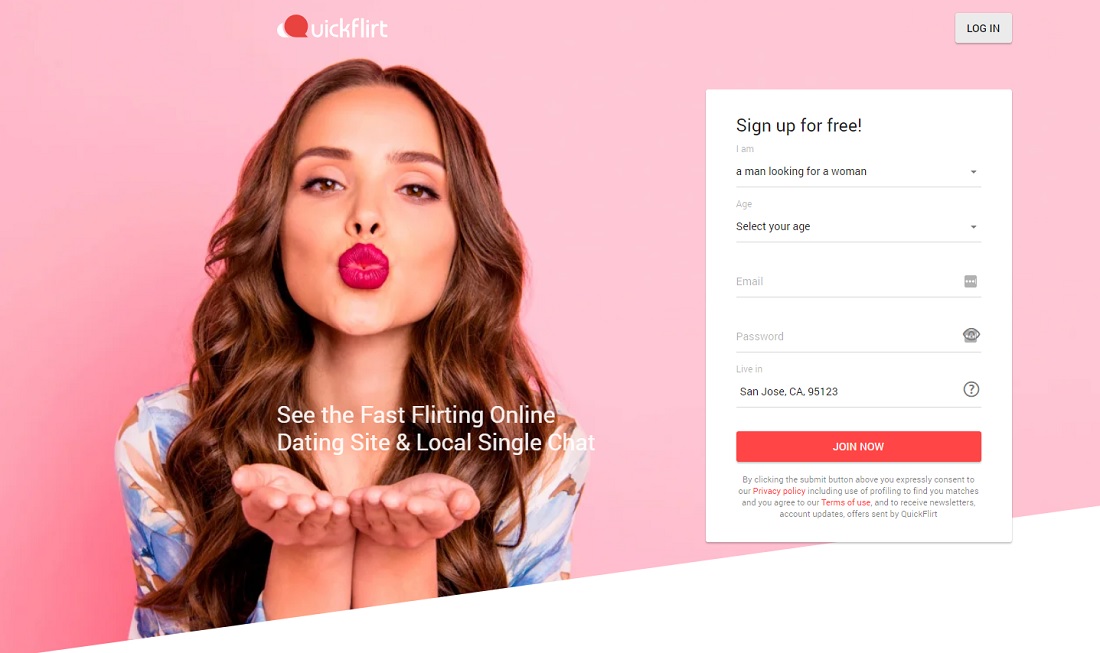 If you're looking for an up-to-date QuickFlirt.com review, full of all the information you'd ever need to know before you become a member, read our tell-all guide and make your informed decision on whether this growing dating site is the one for you.
Pros & Cons of QuickFlirt.com
Pros
Dedicated "Sugar Daddy" and "Gay Sugar Daddy" chat-rooms
A 3-day trial period is available
Quick and simple application process
Members profiles contain adequate information
Each uploaded image or video is moderated
Cons
There is no mobile application
Messaging is a paid feature
Access to new features is limited for free members
Cannot become a member via Facebook
Signing Up as a Member
Applying to become a member on the QuickFlirt.com is a breeze. Expect to take no longer than a couple of minutes to complete the process in its entirety. To successfully sign up, add information relating to your sexual preferences, age, and location. An email and password are also required to proceed with your registration. The email specified needs to be your own because a confirmation email will be sent, granting you access to your new profile.
Should you wish, more information relating to your wants, wishes, and desires can be added, as well as letting sugar dating connections know what you're looking for on your dating journey.
The Profile Quality of Users
Virtually all user profiles found on QuickFlirt.com are super detailed and allow you to work out key information about a new potential love interest without requiring a message to be sent prior. When you visit a new profile, the information that can be seen is:
Screenname/age
Photos and videos (small-sized for none premium users)
Personal information
Status – users can display a short message on their profile
What they're looking for in a sugar dating connection
Additional information – eye color, piercings, drinking habits, etc.
With a wealth of information lying in wait, you can see if any user is compatible with you within moments of clicking their profile.
Security Measures
Security is taken seriously on QuickFlirt.com, and they go above and beyond their competitors to deliver the safest sugar dating platform possible. Whether you're a sugar daddy or sugar baby, you can find like-minded and compatible local connections safe in the knowledge that all of your online activity is encrypted with state of the art SSL encryption. Women can purchase additional security for £0.46 per day, where their account history is removed manually by the customer support team.
Costs and Prices for Memberships on QuickFlirt.com
3 Day Trial - $3.99
1 Month Membership- $59.99
3 Months Membership - $130.99
6 Months Membership - $163.99
Chataholic - $0.84 per day (Rank higher in search results)
Extra Security (Women) - $0.60 per day
Premium Dater - $1.22 per day (Extra security and Receive more matches)
Special Features
The Like Gallery – Cycle through a seemingly endless stream of user images to find a local sugar daddy. You will see singles near you available to meet, each of which you can choose "Hot or Not" according to your level of attraction to each potential partner.
FlirtCasts – Found a group of sugar baby singles you want to chat with but don't want to type out each message individually? Use FlirtCasts to communicate with up to 12 singles at once, without spending endless time retyping your chats. If you lack creativity, simply select a pre-determined message to woo new singles.
Video Uploads – Captivate the attention of a sugar daddy online by including videos up to 120 seconds in length to your dating profile. Users can add 6 videos maximum.
Safe Mode – Decide whether you want any kind of sugar daddy to send you contact requests or limit your connectivity with accounts marked suspicious by turning the safe mode on. There are three levels of safety - Off, Basic, and Full.
Promote My Account – Receive more exposure online leading to more dating opportunities. QuickFlirt.com will compile a favorites list for you and actively send messages to a suitable partner.
Customer Service
QuickFlirt.com offers a decent customer service team who strive to deal with all user queries within 24h, with some taking 24-72h, depending on the influx of requests received recently. Overall, the service delivered by the support team is satisfactory and fulfills its purpose.
Email: support@quickflirt.com
Phone Number: 1800-691-5793
Expert's Summary
QuickFlirt.com is an age-old name in the dating scene. It has provided alternative dating seeking singles with a meaningful destination to connect with a sugar daddy or for men to find themselves a sexy sugar baby in their area. Offering thousands of potential connections to all who use the service, this staple of the community has amassed a very impressive members count spanning countries globally, which shows no signs of slowing down.
With extensive special features and an easy to use service with unmatched search options available, it's hard to see why anyone would decide against using QuickFlirt.com to make new dating connections, both in the local area and further afield.
If you enjoyed our latest Quickflirt.com review, you could check out more of the same great content on our website!
FAQ
Is QuickFlirt.com free?
Yes, but your account usage will be limited. Additional extras such as sending messages and viewing full photos and videos are paid features.
Does QuickFlirt.com have an app?
No, QuickFlirt.com doesn't offer a mobile application to their users. However, the mobile version of the website works effectively and delivers all the same features and functions.