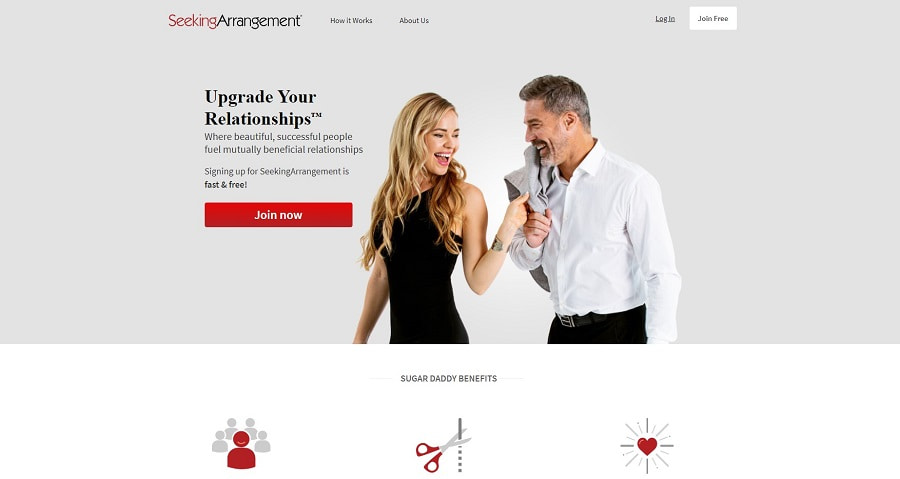 Seeking.com is a site promoted mainly as a platform to seek mutually beneficial relationships. It's geared towards people interested in finding sugar daddies or sugar mommies. It claims to have a huge database for sugar babies to find a good "pay-for-play" type of relationship. While there seems to be so much going in favor of this site, the question is, "Should you really go for Seeking.com while it is possible to find many high-end sites for a sugar mama or sugar daddy dating?" Here's our review to help you make a better decision about Seeking Arrangement.
Pros & Cons
Pros
There is a good ratio of women to men on the site.
You will like an easy-to-use site interface.
It has an easy registration process.
This platform with good search features.
It is free for women.
Cons
A free account is not useful for men.
There are key features for premium members only.
The site has expensive subscription plans.
It has an extensive and tedious verification process.
Be ready for a large percentage of fake profiles.
Signing Up on Seeking.com
Seeking Arrangement is popular for sugar daddy dating mainly because it simplifies the initial signup process. Anyone with a little computer literacy can still manage to find a way to join the site. The interface is simple too, so it won't be hard to find your way across the site. You need to complete a short registration form, and you'll be in. The good thing is that if you're a sugar baby with a college email address, you can use it to upgrade to a premium account without paying anything. Facebook signups are also available. The downside is that a third party company will check your information, and if they don't approve, you won't get a badge or any refund.
Profile Quality
It's easy to create and populate your profile page on this sugar mama dating site, but no special assistance is available for the members. There aren't any templates to use like other top-rated sites. Still, you can upload photos to your private gallery, but they need to be approved first. Similarly, you can't access all profiles even after upgrading to a premium membership because permission is required to access private profiles. You need to have your profile photo approved in order to use the messaging service for free.
Security
Apparently, it seems Seeking.com is serious about the security of its members, and it's evident from all the encryption they have in place. They also take steps to prevent scammers from joining the platform by enlisting third-party companies' services to cross-check info on profiles. However, it seems to be a big hurdle for genuine people looking for sugar mommies than scammers who eventually find their way in the community.
Prices on Seeking.com
While Seeking Arrangement does put in an effort to deliver good quality service, the features are only available to paid members. Chat services are free, but you need to pay for privacy options, read messages, utilize inbox filters, and use advanced search filters. Unfortunately, the subscription plans are quite expensive compared to the level of service and satisfaction you get. Even the monthly plan will cost you $89.95 or more (up to $249.95) if you opt for a diamond membership. Remember, you can be a diamond member only if you use a premium plan for at least a couple of months and have passed the background check.
You can take a 3-month premium membership for $79.95, though.
Features
In terms of special features, Seeking Arrangement does a good job. It comes with effective compatibility functions to help bring sugar daddies/mommies closer to sugar babies. Though available to only premium members, advanced search features may also help you narrow down your search based on location, age, and other criteria. You can also spend some quality time reading interesting content on the Sugar Blog owned by Seeking.com. Moreover, video chat options are now also available to premium members. So, overall, Seeking Arrangement offers various features, but they're hidden behind expensive subscription plans, which is quite disappointing.
Customer Service
While the easy interface, various features, and reasonable security may make Seeking Arrangement a good choice for sugar daddy dating, you'll feel quite disappointed with the customer service level. You can contact them through email if anything goes wrong, but don't expect a super quick response when making an effort to reach out to them.
Summary
Seeking.com offers a safe way to find and interact with older men and women who are seeking younger dating partners. The site is easy to navigate and comes with some good features. Unfortunately, you won't be able to use it effectively unless you're willing to pick one of its expensive subscription plans. Even when you become a premium member, there's no guarantee you'll only hear from genuine people. You can definitely find sites much better than Seeking.com for sugar mama dating.
FAQ
Is Seeking.com Free?
Yes, the site is free to join for sugar babies as well as sugar mamas. However, you need to keep in mind that you'll not be able to read messages unless you sign up for a paid membership plan. Moreover, many other features are exclusively available to paid members.
Does Seeking.com Have an App?
Yes, you'll be able to find a mobile app for sugar dating through Seeking Arrangement, but it's not currently available for iOS devices. It may be a good idea to use the app to stay connected on the go, but you won't notice any difference in features between the desktop and app version.
Are There Any Fake Profiles on Seeking Arrangement?
Even though they seem to take precautionary measures, the site is not free from the influence of infiltrators and scammers. It utilizes an anti-fake profile system, which does make it better than many other sites, but be prepared to bump into fake members when trying sugar dating on this platform.