SugarDaddyForMe.com Sugar Dating Review 2022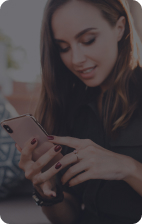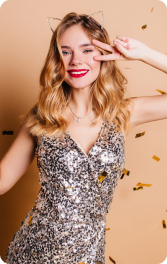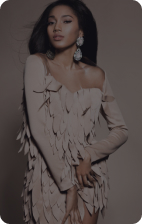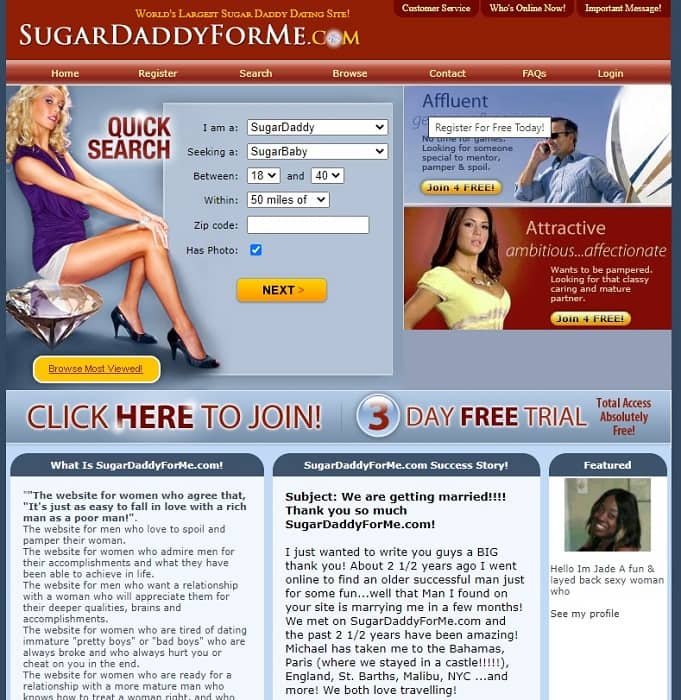 It is a site for men and women seeking sugar love. More specifically, users seek and find sugar daddies, sugar babies, and even sugar mommies on this web-based dating platform. Potential online daters are always on the lookout for discreet, modern, and visually compelling websites.
As you prepare to join a site like SugarDaddyForMe.com, keep in mind all sites have pros and cons. SugarDaddyForMe.com has over 4 million users, and 1000 new profiles are created daily. Our review seeks to highlight the nitty-gritty of sugar dating, specifically on SugarDaddyForMe.com.
Pros and Cons of SugarDaddyForMe.com
Finding a sugar baby online should be hassle-free, and it is, depending on the site used. However, no platform is perfect, and some pose more risks than they do advantages. Let's review this site's plus and minuses before deciding to join.
Pros
Dedicated "Sugar Daddy" and "Gay Sugar Daddy" chat-rooms
There are numerous personals from users all over the globe seeking sugar daddy dating. You won't miss someone to engage with.
The site has very detailed profiles.
The messaging page is structured like an email page – quite spacious and easy to use.



Cons

Free-loading members only get access to 3 pics of other users.
The cheapest membership on SugarDaddyForMe.com is approximately $40 per month.
No mobile app is available.
You have to upgrade to a paid membership to reach everyone.
It is not mandated that you upload a profile picture – can't be sure if it's a scammer or not.
There are many young users seeking sugar daddies and mommies on the site. It is hard to tell if a sugar baby is real, a swindler, or a con artist.

Signing up on SugarDaddyForMe.com

The site doesn't make it a priority for you to upload a profile pic right off the bat. The idea is to keep you busy with sugar daddy dating instead of checking archives for proper photos. However, it does imply that users can't tell who's real and whether they are chatting with BOTS.

SugarDaddyForMe.com takes less than six minutes. Describe yourself, the person you are looking for, and of course, list your profile title/description. Remember, profile photos attract a cool, 20x more responses than blank ones.

Profiles Quality – Could Be Better?

The visuals are quite alluring as women users capitalize on the platform's numbers to attract as many older men as possible. Most pictures seem updated, which is what keeps people registering and searching daily. The downside is the site boats a huge number of users worldwide, making it harder to vet all profiles.

For newbies to online sugar dating, this means you may encounter fake profiles or indeed be chatting with a Robot. On SugarDaddyForMe.com, admins should urge users to upload profile photos from the onset. It would ensure members see whom they are communicating with. With premium packages being so pricey, some users find it better to use the free option. That is why mediocre profiles are rampant, and users aren't always satisfied with SugarDaddyForMe.com.

Security on SugarDaddyForMe.com

Like most sites, it uses a dedicated https encrypted system to give users some peace of mind. All financial transactions and messages are carried out discreetly. Incidentally, security is an issue based on registered members. It's a decent platform for older, rich men and women to find sugar babies with ease.

However, the numbers are huge, and not enough is done to ensure all profiles meet visual standards. This common practice on sugar dating sites sets the bar high in terms of secure platforms. The alternatives are bogus sites filled with scammers and leakage of personal data.

Prices on SugarDaddyForMe.com

Prices may be a tad steep for members on a budget seeking coin subscriptions.

1 month - $ 9.95 per month - Silver Membership
1 month - $54.90 per month - Silver Membership + Full Access
1 month - $44.95 per month - Gold membership
1 month - $59.90 per month - Gold Membership + Full Access

Reading the above costs and prices and reviewing what SugarDaddyForMe.com competitors are offering, users are better off using the said competitors.

Key Features on SugarDaddyForMe.com

Some nifty features are available on this discreet platform set it apart from its sugar daddy and sugar baby dating competitors.

Weekend planner lets you list your plans for the weekend for other members to view.
There is unlimited storage for certain membership plans.
It is a mobile-optimized site for on-the-go users.
The site has easy to use interface with a messaging page mimicking an email page.

Customer Service – Online Support

Disgruntled members can raise their concerns via the site's email support system, cs@SugarDaddyForMe.com. The support staff sometimes takes ages to respond. It seems the large volume of users can be overwhelming for the customer support team. Alternatively, you can call the team on (866) – 920 – 9610. It may get you a response, but unlikely it will be any faster than emailing support.

Summary of SugarDaddyForMe.com

The site has an easy to use web-based matchmaking service for women and men into sugar dating. It boasts cute personals for anyone looking for a sugar baby, with a few strings attached. However, the site could use more dedication in its vetting of profiles, which isn't carried out via email, like most of its competitors.

What may deter new and current users from subscribing is the pricey membership plans. Compared to other sugar dating websites, SugarDaddyForMe.com doesn't quite offer value for money. Members can find pocket-friendly plans, with the same features, if not more, on other sugar daddy dating sites.
FAQ
Still in limbo on whether the site offers good value for money? Take into account the review presented so far, and peruse a few answers to the popular FAQ.
Is SugarDaddyForMe.com Free?
As free as it gets with limited features available - perform a basic search, and send winks for free, but unlimited messaging and storage is restricted to paying members.
Does SugarDaddyForMe.com Have an App?
The site does not offer a mobile application for iPhone nor Android users. Their site is available for use on mobile devices, but older, less tech-savvy sugar dating members may find it tricky to use.  It is a handy site boasting cool pictures and nifty search options. Try it for free today!